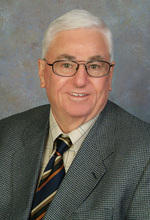 Eddie Dean, Sr.
Designated Broker

| | |
| --- | --- |
| Office: | 316-321-6500 |
| Cell: | 316-377-9200 |
| Fax: | 316-321-7052 |
| Email: | Contact |

♦Broker/Owner of Realty Executives since 1992Not only is Eddie the Broker/Owner of Realty Executives of Butler County, which is one of the leading real estate offices in Butler County and the El Dorado area since 1991, Eddie also owns Custom Homes by Dean & Sons, established in 1974, which builds most of the new homes sub-divisions in the El Dorado area. Custom Homes has new homes going up in the Prairie Land Estates 2nd Addition on the west side of El Dorado that are available in the $130-$140k range. New homes also going up in the Sweet Tree North subdivision near El Dorado High School!
♦Multi-Million Dollar Producer 1992-2006
♦Chairman Club 1992-2010
♦Gold Executive Club 1992-2010
♦1999 Broker of the Year
♦Top 10% Realty Executive 1992-2006
♦Wichita Board President Club 1992-2010
♦Member of Wichita Area Builders Association
♦Member of the National Home Builders Association
Now is the time to take advantage of low, low interest rates!
As a results-oriented professional, Eddie balances aggressive strategies, market knowledge and negotiating expertise with a high level of integrity to satisfy each client and customer.
Eddie prides himself on being knowledgeable and staying current with changes in the real estate market and other markets that will affect the success of your transaction.
The real estate process is always more enjoyable when you fully understand each phase of the transaction. As your real estate agent, Eddie will keep you informed throughout the entire process.
Eddie's commitment to honesty and open communication is the foundation from which a solid business relationship is built. He pledges to always be honest with you and protect your best interests to the fullest extent of his ability.
Eddie has a positive attitude, is a good listener and will go the extra mile to make your transaction as smooth and efficient as possible. Eddie believes there is a solution to every problem.
Eddie takes a unique, very personal approach to real estate. Dedication to solving client's problems motivates him to go the extra mile.
Eddie will provide you with the highest levels of service available in the real estate industry today – sound advice, reliable follow through and attention to detail. Need banking or home mortgage? Eddie has a one stop real estate office. Eddie is a stockholder and is on the board of directors for Community National Bank.
Eddie provides top quality professionalism and always seeks to exceed his clients' expectations.